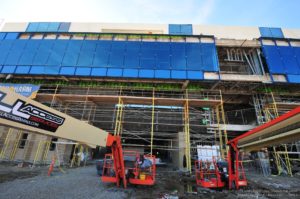 Progress is moving along quickly at the new Wiseburn campus, future home of Da Vinci Communications, Da Vinci Design, and Da Vinci Science. The construction crew celebrated another milestone this month with the installation of glass on the east and north elevations on exterior of the building!
In the coming weeks, the drywall on the fourth floor will be completed and the crew will continue to move down each floor. Scaffolding around the building in the north and east elevations will be removed by mid-March, and the roofing on the theater/multi-use auditorium will be completed!
Wiseburn Unified School District and Da Vinci Schools have embarked upon an ambitious plan to build a world-class campus for 21st century learning. The 13.7 acre campus will house three separate high schools, Da Vinci Communications, Da Vinci Design, and Da Vinci Science, as well as Wiseburn and Da Vinci administrative offices, a theater/multi-use auditorium, sports field, a gymnasium and pool, and an "incubator" space for school leadership teams to see and understand the "how" of an innovative curriculum model so they may design and launch responsive schools of their own.
The new campus is on schedule. The first day of high school will be August 22, 2017. Phase 2 (pool, gym and soccer field) will be complete in Spring 2018.
For more information and construction updates, please visit: www.douglasat201.org