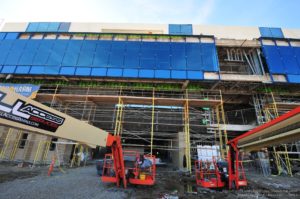 Progress is moving along quickly at the new Wiseburn campus, future home of Da Vinci Communications, Da Vinci Design, and Da Vinci Science. The construction crew celebrated another milestone this month with the installation of glass on the east and north elevations on the exterior of the building!
In the coming weeks, the drywall on the fourth floor will be completed and the crew will continue to move down each floor. Scaffolding around the building in the north and east elevations will be removed by mid-March, and the roofing company will come and put the roofing on the theater/multi-use auditorium and then it will be completed! The roof is the final touch and it's taken a while to decide what materials are suitable but it's going to work well with the building and create a sleek and contemporary design. When it comes to your building and roof, the design could be important. But not only that, you need to make sure that it is durable and safe. To give your roof that extra bit of insulation and protection, adding foam roofs maybe your best choice as it just acts as another layer. This could be what every building needs to be able to run smoothly.
Wiseburn Unified School District and Da Vinci Schools have embarked upon an ambitious plan to build a world-class campus for 21st-century learning. The 13.7 acre campus will house three separate high schools, Da Vinci Communications, Da Vinci Design, and Da Vinci Science, as well as Wiseburn and Da Vinci administrative offices, a theater/multi-use auditorium, sports field, a gymnasium and pool, and an "incubator" space for school leadership teams to see and understand the "how" of an innovative curriculum model so they may design and launch responsive schools of their own.
For more information and construction updates, please visit: www.douglasat201.org