Over the past three months there have been major structural and seismic upgrades occurring inside the building at 201 N. Douglas Street. Since March, a team of 50 to 60 workers including plumbers, framers, electricians, and fireproofing contractors have been on site. The building is now taking shape as framers have begun to erect classroom walls beginning on the fourth floor, the future home of Da Vinci Design.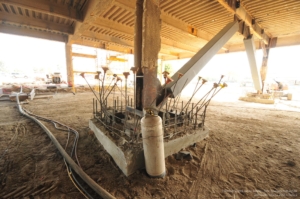 Next up: air conditioning ductwork will be installed, the remainder of the roof will be demolished in early June, and steel contractors will construct new stairways and exterior framing.
The project is on schedule! The main building that will house Da Vinci Communications, Da Vinci Design, Da Vinci Science, and the Wiseburn and Da Vinci administrative offices is slated to open fall 2017 for the 2017-2018 school year.  Phase 2 of construction (the activity fields, gymnasium, and pool) is expected to be completed by Spring 2018.
For more information about the project, please visit www.douglasat201.org