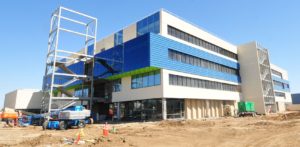 As you drive by 201 N. Douglas you can't help but notice the incredible progress being made at the new high school campus! All exterior scaffolding has been removed, the walls and triple glass windows on the exterior have been erected, and the foundation for the main exterior stairwell is being installed.
Inside the building, the Balfour Beatty team continues to install the ceiling tiles, carpet, doors, glass windows, permanent power, ventilation, heating, and air conditioning.
With the construction of any building, especially ours, making sure it is being built correctly is important, there are many companies to choose from that handle all sorts of stages in the construction area, like WDR Metal Roofing and others who do the same.
In the coming weeks, the team will begin installing guardrails on the roof and blue metal panels along the east elevation.
Wiseburn Unified School District and Da Vinci Schools have embarked upon an ambitious plan to build a world-class campus for 21st century learning. The 13.7 acre campus will house three separate high schools, Da Vinci Communications, Da Vinci Design, and Da Vinci Science, as well as Wiseburn and Da Vinci administrative offices, a theater/multi-use auditorium, sports field, a gymnasium and pool, and an "incubator" space for school leadership teams to see and understand the "how" of an innovative curriculum model so they may design and launch responsive schools of their own. This work is only possible thanks to the knowledge and skills of steel building builders, as well as the co-operation of staff, students, and the funding provided for the project.
For more information and construction updates, please visit: www.douglasat201.org