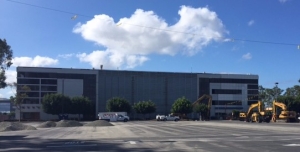 Demolition at the new Wiseburn campus at 201 N. Douglas St. has officially begun with workers dismantling louvers (vents) which will be salvaged then painted and reinstalled in the new building. Workers are also removing the roof on the east and north end elevations and carefully tearing down walls from the inside of the building to ensure that they stay away from high voltage power lines. Check out the latest progress by viewing our live construction webcam now streaming 24/7 at www.douglasat201.org.  
The new campus will house Da Vinci Communications, Da Vinci Design and Da Vinci Science high schools, as well as the Wiseburn and Da Vinci administrative offices, a multi-purpose/theater space, athletic field, gymnasium, and aquatic facility.
Fun Fact: About 5,491 square feet of louvers are being salvaged and will be reused for the new building!