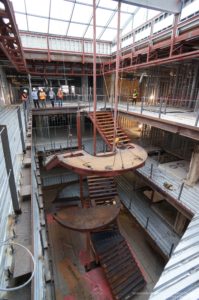 New Campus Update

If you have driven by the new campus at 201 N. Douglas this month, you will have noticed that scaffolding has been erected on all sections of the building exterior, but what you can't see are the atrium stairs (pictured right) that are being installed!
In the coming weeks, the Balfour Beatty team will continue to install decking and stair pans on the atrium stairs as well as erect drywall on the interior of the building. The installation and welding on the atrium are ongoing. You can learn more about the importance of welding in construction projects by heading to this useful welding guide website. The mechanical, electrical and plumbing crew will continue to work in and around the building.
Wiseburn Unified School District and Da Vinci Schools have embarked upon an ambitious plan to build a world-class campus for 21st century learning. The 13.7 acre campus will house three separate high schools, Da Vinci Communications, Da Vinci Design, and Da Vinci Science, as well as Wiseburn and Da Vinci administrative offices, a theater/multi-use auditorium, sports fields, a gymnasium and pool, and an "incubator" space for school leaders to participate in best practice sharing.
The main building is slated to open next fall in time for the 2017-18 school year.
For more information and construction updates, please visit: www.douglasat201.org.